First topic message reminder :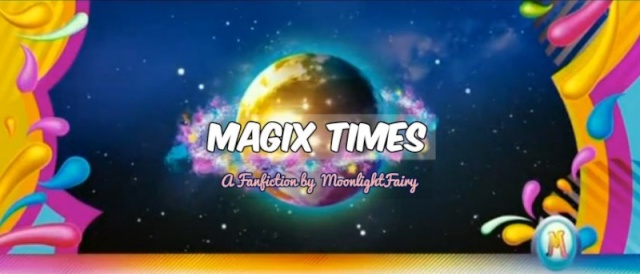 Magix Times has arrived to MagicalWinxClub!

Follow the stories of the Magix School inhabitants such as Alfea,Cloud Tower, and Red Fountain. What relationships will bloom?, what rivalries will start?, and what new adventures are being made in Magix?
Current Season: 2
Next Episode: 2
Episode 1- Welcome To Magix!
At Alfea...
"Alright girls, open to page 305 and answer questions 1-20  on the animal metamorphosis topic." Professor Wizgiz said.
All the students in the methamorphosimbiosis class sighed and whined as they opened their textbooks to page 305.
"No noise! Look, if you finish the questions you will be dismissed early." Wizgiz exclaimed.
"Pssst.... Valentina, psssst...." A girl with bright orange braids whispered to the girl next to her.
"Poppy! What do you want, we have to do these questions so we can get out of here." Valentina, a girl with light brown hair and green bright eyes replied.
"Did you catch Magix's Top Model last night? Can you believe Christie won? I had all my pixie dust on Jennifer." Poppy said as she leaned closer to Valentina's desk.
"Yeah i know right? I mean c'mon nobody wears fur coats anymore." Valentina added.
"Erm,erm. Valentina and Poppy! Silence!" Wizgiz exclaimed shushing them both.
"Sorry professor." The girls said in unison.
Meanwhile at Cloud Tower Hallways....
"Wooo Yes! I told you she would win!" A girl with dark purple long braids says to her friend.
"You know i couldn't care less so why are you telling me this?" The girl with dark red hair replies.
"Oh c'mon Destiny stop being such a party-pooper." She replies.
"No if anything,Karma,you're too cheerful to be a witch i mean seriously you watched "Rainbow Tastic Fairies" 7 times at the cinema." Destiny says as she goes to open her locker.
"Hey...it's a really good movie alright? Hahaha. Anyway, you wanna go to the Coffee House in Magix City later?" Karma asks as she opens her locker which is right next to Destiny's.
"Yes, definitely. I've been so stressed out with Ediltrude's hexes class. I mean i know she's a witch but she doesn't have to make my life so complicated with this 250 page essay I'm supposed to write for tomorrow." Destiny closes her locker in frustration.
Later at the CoffeeHouse...
"Hahaha you get me right? Like, who in the fairyworld came up with the name Butterflix hahaha!" Karma laughs.
"They should have called it ButterFingers." Destiny adds as she sips her Organic Coffee.
"C'mon before the line is too long!" A girl says out loud followed by another girl.
"Uh uh, Alfea fairies at 1 o'clock." Poppy says as she eats a brownie.
"Ugh and look who it is. Valentina Woods and Poppy Caramel. You wanna teach them a lesson?" Destiny says as she smirks.
"A lesson? For what?" Karma asks in confusion.
"Nothing. It's just what a witch does." Destiny replies as she gets up from the table.
"Oh...I will never understand witch mentality." Karma says as she gets up as well.
The Alfea girls get their coffee to go and head out.
"Let's follow them and when their alone we will rip their wings out." Destiny says with an evil vibe.
"Pffft then you say i watch the stupidest things, girl you watch to many Trix documentaries." Poppy says looking at her abnormally.
"Ugh whatever let's just catch up to them." The witches head out and follow the Alfea fairies.
At Magix Center...
"Wow Magix Coffee is everything." Valentina says in a joyful manner.
Suddenly as the girls go in a shortcut valley, the cloudtower witches appear.
"Well if it isn't Valentina Hoods and Poppy Cara-smell." Destiny says with her evil smirk.
"Wow, that's a good one." Karma adds.
"Um, okay like what do you want i have tons of homework to do so like if you wanna fight i mean let's go I'm ready." Valentina says as she dumps her coffee in the nearby garbage bin.
"Oh shoot i forgot to do Ediltrude's homework! No matter i'll do it right after we're done with you fairies." Destiny replies.
"Well okay Ms.Procrastinator." Poppy says as she laughs at Destiny.
"Charmix!" The Alfea girls yell in unison.
"Valentina, Fairy of the Moon!" Valentina says as she transforms.
"Poppy, Fairy of Sweets!" Poppy says as she transforms.
"Oh cute outfit. Not. Silver Storm!" Destiny says as she attacks the girls with a damage attack.
"Lunar shield!" Valentina yells as she blocks Destiny's attack.
"Caramel Swirl!" Poppy attacks as she summons a swirl of sweets.
"Ugh so sweet it gave me cavities." Karma says. "Dark Wind!" Karma commands pushing the girls back.
"Okay it's time to end this." Poppy says. "Charmix Convergence!" The girls yell in unison. "Charmix Bolt!" They yell for their final attack.
"Ahhh! Let's get out of here!" Karma says summoning her and Destiny back to Cloud Tower before the convergence spell could hit them.
"Woo! That'll teach them a lesson. Oh shoot i have to finish my homework let's hurry up and get to Alfea!" Valentina says as her and Poppy hurry back to Alfea.
That's it for Episode 1! Stay tuned for the next episode where the Alfea and Cloud Tower are invited for the annual Red Fountain Festival. How will things turn out at the festival?