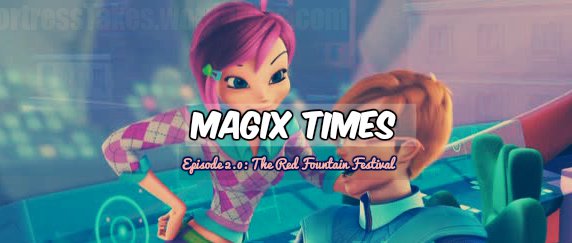 At Red Fountain..
"Wow! Red fountain is beautiful." Lisette says as her and the girls enter the Red Fountain gates.
"This is your first time at Red Fountain?" Melody asks her in surprise.
"Yeah, this is my first year at Alfea remember?" Lisette says with a bit of laughter.
"Oh yeah haha." Melody replies.
"Oooooo, cute boys. Valentina look that guy is staring at you, let's go and make conversation." Poppy says as she grabs Valentina's hand to go to the group of specialists near them.
"Well hello boys, I'm Poppy and this is my friend Valentina. We are from Alfea...." Poppy says as she flirtatiously bats her eyelids.
"Uh hey." A blonde headed specialist replies.
"My name is Jake and this is my friend Chris." He adds as he points at the dark curly haired guy next to him.
Jake then leans to mildly whisper in Poppy's ear and says "Chris kind of has a crush on your friend."
"Yo dude, stop." Chris says fairly embarrassed while Valentina turns red.
As the girls make conversation with the guys the Cloud Tower witches arrive.
"Are you sure this is gonna work?" Grace asks as she looks at Destiny.
"Of course it will." Destiny says looking back at Grace.
Headmaster Saladin starts speaking through a microphone to direct everyone to the arena where the specialists will put on a dragon show.
At the Red Fountain Arena...
"Woo! Dragons!" Karma yells in excitement.
"Pipe down Ms.Cheerful." Mia says as she covers Karma's mouth with her hand.
"Welcome to the Annual Red Fountain Festival! To begin the festival we have a group of specialists who will put on a dragon show." Headmaster Saladin says.
When the dragon show starts and the dragons arrive on the arena Destiny summons a dark magic ball and casts in on one of the dragons. The dragon becomes furious and starts flying around and shooting fire beams.
"Ahahaha, i told you it would work." Destiny says with an evil laughter as the audience screams and runs out of the arena.
Meanwhile with the Alfea girls...
"What happened to the dragon!?!?" Valentina exclaims.
"Wait! Look who's over there laughing with that evil smirk." Poppy says.
"Ugh those witches!" Melody yells in anger.
"Girls, i think it's time to transform." Lisette adds.
"Charmix!" They yell in unison.
"Valentina, Fairy of the Moon!"
"Poppy, Fairy of Sweets!"
"Lisette, Fairy of Aqua!"
"Melody, Fairy of Rhythm!"
The girls fly up to the witches. "Hey Witches!" Poppy says followed by a whistle.
"Oh hey Poppy Cara-smell." Destiny says as her and her group fly up to the fairies.
"Remove the spell from the dragon!" Lisette orders.
"Um how about....no." Destiny replies.
"Girls, let's teach these fairies a lesson." Grace says.
"Illusion Blast!" Grace adds summoning two dark magic blasts from the palm of her hands that deal damage to the girls.
"Cupcake Shield!" Poppy yells as she summons a magic shield shaped like a cupcake.
"Water Ball!" Lisette yells as she creates a water ball hoping to attack Mia.
"Freeze!" Mia yells as she summons a ice storm from the palm of her hands making the atmosphere a lot colder.
"Ugh, Lunar Shine!" Valentina replies as she shines to melt the icy atmosphere.
"Melodic Wonder!" Melody shouts as she releases a sonic wave from the palm of her hands.
"Thunder Storm!" Karma yells as she summons two dark lighting bolts out of the sky that damage the girls.
The specialists were trying to tame the dragon while the battle was happening but they were having a really hard time.
"Lisette and I will go help the specialists with the dragon." Melody says to Valentina and Poppy as she and Lisette fly off to help.
"Hmm a 4v2? That doesn't sound fair to me." A boy with dark short hair accompanied by a boy with dark dreadlocks says.
"Hiya!" The short haired boy grunts as he pulls out a a laser gun and shoots the witches with it.
"Hua!" The dreadlocks guy adds as he pulls out a training sword that shoots laser waves at the witches.
"Charmix Convergence" Valentina and Poppy yell in unison.
"Charmix Bolt!" They yell for their final attack and assist to the specialist.
"AHHHHHHHH! AHHHH!" The witches scream as they dissapear back to Cloud Tower.
As the witches dissapear back to Cloud Tower the dark spell on the dragon vanishes along with them and the dragon show resumes.
After the Festival just as the girls are about to head back to Alfea...
"Hey um Valentina!" Chris yells from a distance.
"Oh hey Chris..." She replies looking to the ground in shyness.
"Hey....so um would you I don't know... like to maybe hang out sometime? We could grab a coffee or something..." Chris says stuttering a bit.
"SURE! I mean....yeah sure." Valentina replies blushing.
Chris gives Valentina his number and Valentina head with the other girls back to Alfea.
Hope you enjoyed this episode! Next episode:
Valentina goes out to Magix City to grab a coffe with Chris. How will their "date" go?